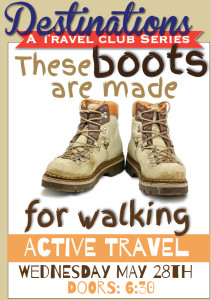 Kristen will be a guest on Destinations – A Travel Club Series at the Midland Cultural Centre, speaking about her climb of Mt. Kilimanjaro. This edition is titled "These Boots are Made for Walking".  See the attached poster for more info…
Whether you are interested in strolling the streets or climbing mountains, this months Destinations is for you.
Our first guest is a mother of two who will inspire you with her journey as she climbed Mount Kilimanjaro. Her story begins years before she ever set foot on the base of the mountain.
Our second guests enjoyed a hiking tour recently to Red Mountain, Utah and will be sharing their experiences with you about a location that covers a variety of activities (hiking, biking, walking, yoga, spa, cooking and photography classes – to name a few) along with excellent customer service. This place ranks # 71 on
Conde Nast Traveler 2013 "Top 270 Spas" list. Come and find out why!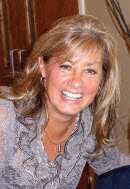 NEW HOST: Kathy Elsdon-Befort. She is a huge travel enthusiast and has traveled extensively including Europe and Great Britain, the Caribbean, much of Canada and the United States and, most recently, parts of Africa.
Wednesday May 28th: Doors @ 6:30pm – Show Starts @ 7:00pm.
Tickets: $10 – Order Online or visit the MCC box office