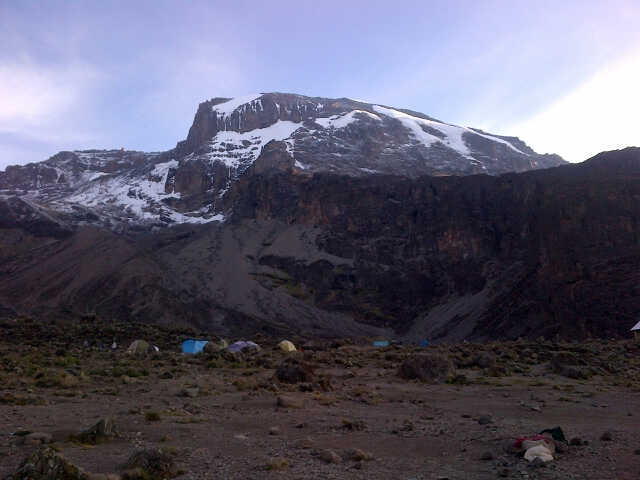 Today was a different day.  We got to sleep in (I was up at 5).  We started our hike at 9:00.  Today we tackled the Barranco wall – and Team Outward Bound won!  It is an enormous cliff wall, with switch backs all the way up – 1000′. We often had to use the technique of "3-points of contact" to be safe.  Our guides are amazing.  In tricky spots they stand on the down side, ready to save us.  Luckily our whole team is fit and able – and we handled it like champs!  It certainly is humbling when we watch the porters carry our gear and jugs of water on their head up the wall at twice our speed.  We then went up and down through a few valleys and across small streams.  We arrived at camp around 2:30.  Now we are all chilling in our tents and getting some rest.
The trip is still great!  The Chagga tour company are so helpful.  Our food is great!  For breakfast we had porridge, french toast sandwiches (with cheese, cucumber and tomato) and mango.  Lunch was at camp.  We had fried chicken, french fries, coleslaw, salmon sandwiches and soup and pineapple.
It is cold and rainy today (and yesterday too – but I think I forgot to mention that).  It was about 5 degrees this morning.  Nights are below zero.  It is crowded in my Mummy sleeping bag, with 2 hot water bottles, my camera, GPS watch and cell phone and socks and mitts that I need to dry out.
This is an amazing trip of a lifetime!  I love everyone here.  I love the physical and mental challenges.  I love that I am still feeling healthy and strong!  Only 1 full night sleep before summit.  This afternoon I made a list of things I want to do while at the summit – hope I feel up to fulfilling them all (and my camera still has battery life).
Love to all!